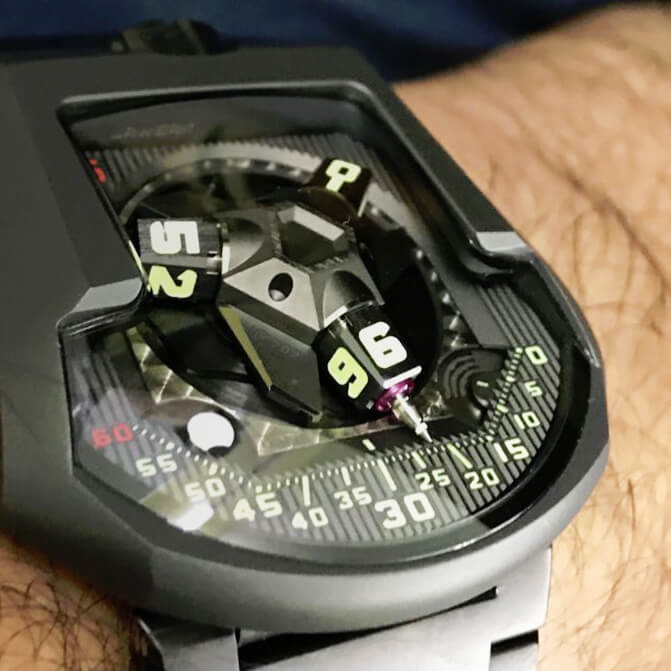 UR-202
YOUR WATCH HAS A STORY – THE 202 COLLECTION
" The mechanism of the UR-202 began to occupy a part of my spirit during the conception phase of the Opus V for Harry Winston in 2004. I had already seen the mechanism in my mind and imagined it functioning as an evolution of our satellite hours. It was difficult however to find the limit as to what was humanly and technically possible, and what was haunting me to believe at all costs was possible ... "
Felix Baumgartner
My love for URWERK watches started when I first laid eyes on the UR-103. However, it was quite some time before I was finally able to acquire my first URWERK, a rose-gold UR-103T. I enjoyed it for many years until my wife decided that she liked it too. She had a shorter strap put on it so that I could no longer wear it.
When my son was born in 2014, I felt I needed to treat myself, so I ended up buying two more URWERK models: the UR-210 RG — my favorite piece to date — and a UR-110 TTH.
I've been acquiring URWERK watches ever since, and I'm proud of my collection of several 202s, 210s and 110s. I also own an Opus 5, the archetypal URWERK, which holds a special place in my collection.
My first URWERK introduced me to the world of independent watchmaking, and I have come to truly appreciate the independent watch companies and how different they are from the mainstream brands. I now own watches from many independent brands, but none give me so much pleasure as my URWERK watches. The rotating satellites system and cutting-edge design just does it for me. So thank you URWERK!
I look forward to seeing what Felix and Martin come up with next. So please don't stop amazing the horological world. 
M.