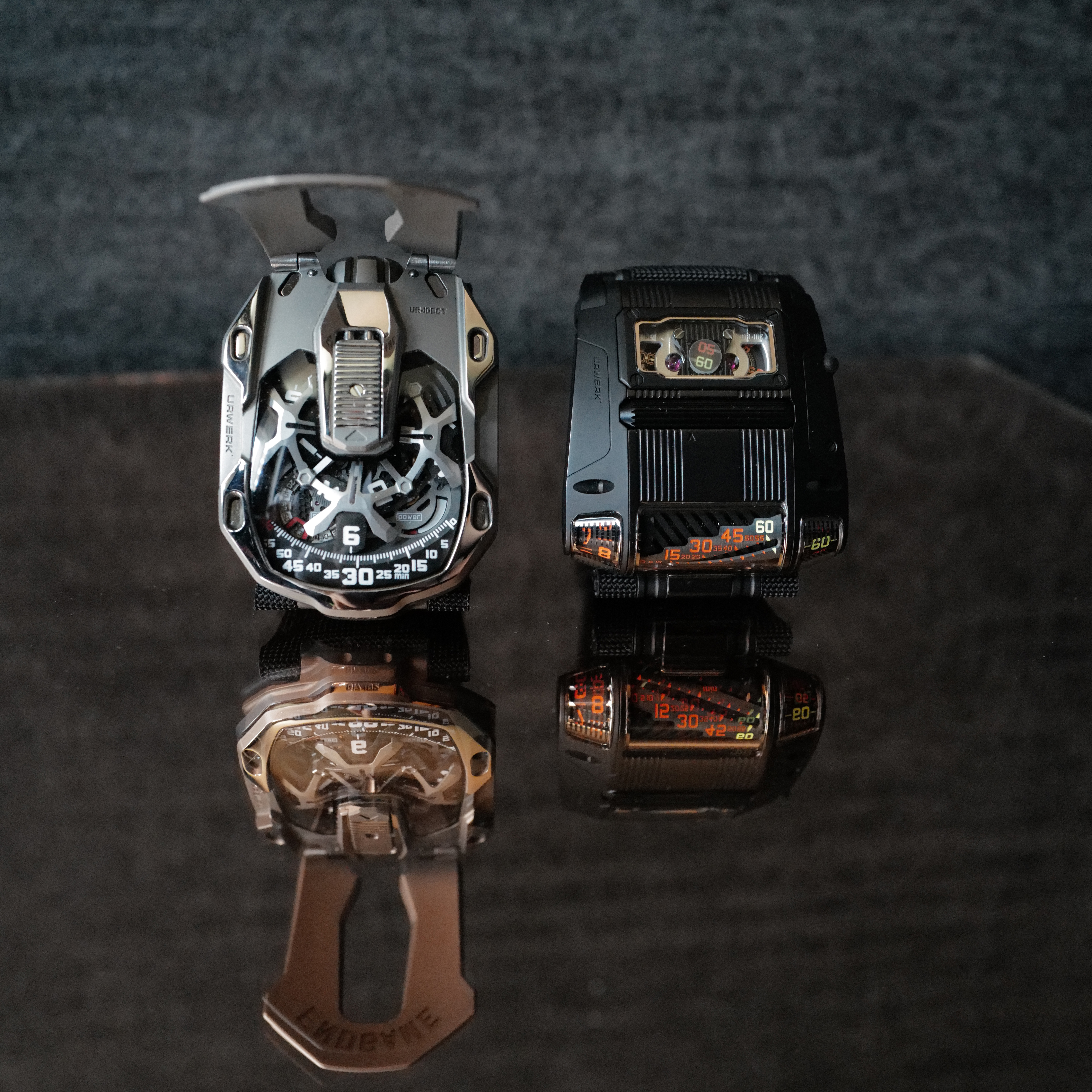 UR-111C
YOUR WATCH HAS A STORY : UR-111C COLLECTION
"There has to be a strong bond with a mechanism that merges into your wrist. For this reason, we created a new interface with the watch. Instead of the conventional crown, we conceived a roller integrated into the top of the case for a new sensation."
Felix Baumgartner
Before acquiring my first URWERK, I had been intrigued by its watches for some time due to their bold and futuristic design. I'm a Marvel fan and after seeing Robert Downey Jr wear the UR-110 as Iron Man in the movie Spiderman Homecoming, I was more fascinated than ever as this was a really strong endorsement of the brand.

Having watched the Endgame movie and RDJ was wearing the UR-105 CT, I was already hoping that his watch be put on auction once again like his UR-110. Sure enough, my prayers were answered.
 
I told myself there's no way such a watch with a powerful presence and provenance should not end up in my collection. I thank my lucky stars that I managed to win the auction bid and probably set the record for the highest amount ever bid for an UR-105.

Because this independent brand makes very limited editions, most people do not see them in real life, let alone put one on their wrist. However, my experience with my UR-105 CT so far is that it draws more attention and gazes whenever I wear it, compared to my other heavyweight timepieces like Rolex and Patek. It is a great ice breaker as dudes almost always ask what I'm wearing, due to URWERK's avant-garde and stylish design. And they are all left in awe when witnessing how the wandering satellite complication works. That is a very proud moment as an URWERK owner.

As I was already a big fan of the brand, it was no surprise that my second URWERK came within a few months when URWERK decided to put up the UR-111C Black Cobra – which was also worn by RDJ to the Endgame movie premiere – for a charity auction. The UR-111C is another brilliantly executed timepiece in terms of its innovative approach to time telling and very futuristic design.

Both my URWERKs were obtained from charity auctions and that is also why I'm a huge fan of this independent brand, which doesn't blindly chase commercial profits, but instead focuses on exclusivity and customer service. It doesn't seek out celebrities to wear its watches; celebrities wear Urwerks because they love the brand. Go to your AD showroom and try on an Urwerk; you'll immediately understand how special it is.