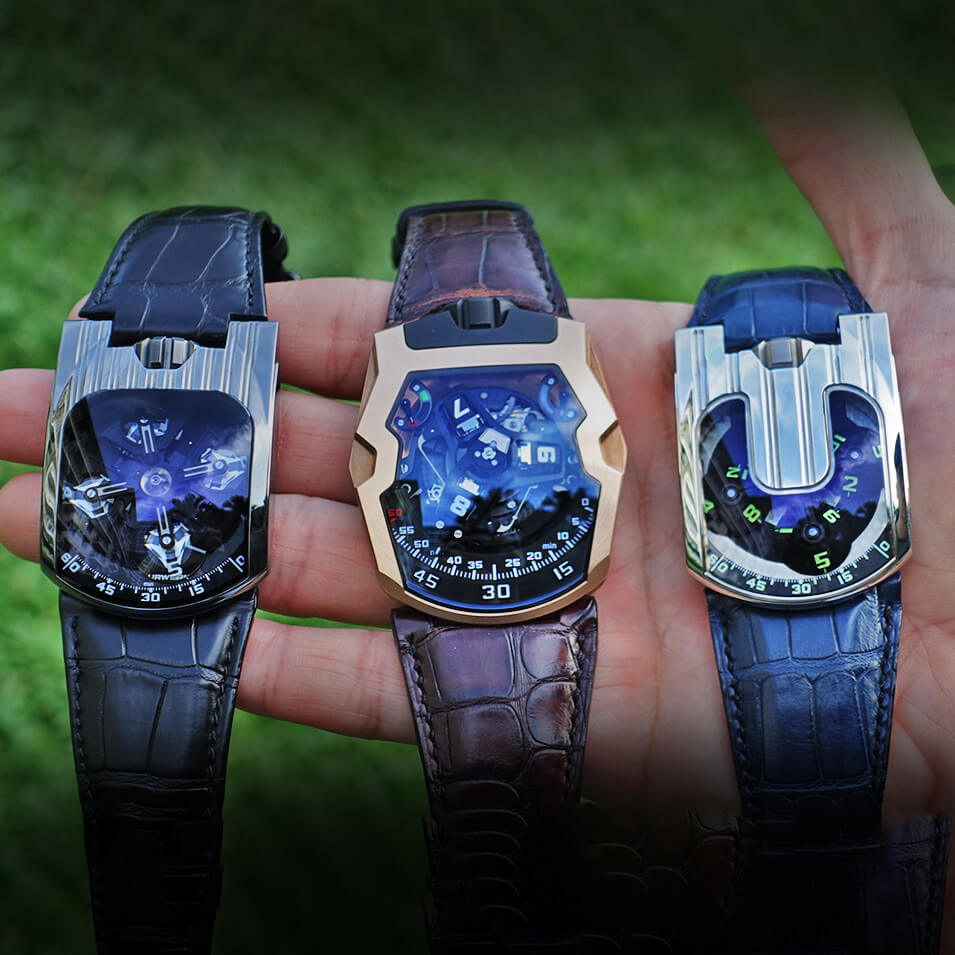 UR-103
YOUR WATCH HAS A STORY: THE UR-103 COLLECTION
The UR-103 was first conceived as a mechanical sculpture. The closed case gave no clue as to the technique employed. Martin Frei designed it as a mysterious machine that did its job as if by magic. Only the time was visible. Then, as the years went by, a mechanical striptease took place as the case opened to give precedence to the watchmaking skills involved. Today, in the UR-103 T, known as "the shining T", you can even see the Maltese crosses on which the satellites rotate.
Martin Frei
I was never a huge fan of Star Wars, avant-garde toys or fast cars when I was growing up. After college though, I found myself turning my head when I saw someone wearing an Audemars Piguet Royal Oak or a Panerai, because where I'm from, the market was then still saturated with Rolex and other mainstream brands. I started my humble collection with AP and frequently read watch forums to get an update on the latest in the world of horology. I was pretty happy with what I had until I came across an independent watch brand called URWERK. It was love at first sight! The design was out of this world. It made me appreciate how someone's imagination can come up with a futuristic and amazing design that has a unique way of telling the time.
The first URWERK in my collection was the UR-103.08 with angular crystal — the Magneto — back in 2010. I loved its unique coating of TiAlN. I never looked back after that. I was very lucky to have the support of my family for my peculiar watch addiction. That same year my father gave me the UR-103T Shining-T. The openness of this watch and its sapphire discs are admirable.
I also got the UR-103.05 platinum with an open caseband, which I must say is one of my favorites. My love for independent horology was definitely ignited by URWERK. Through hard work I was fortunate enough to eventually acquire the more complicated pieces, namely the UR-202 AlTiN and the UR-210RG.
My URWERK journey was made more meaningful because of the many friends I made all over the world who share a common fascination with the brand. I would even go overseas just to meet fellow URWERK collectors, because independent brands were not represented in my country. Among the friends I made during the years with URWERK were Felix Baumgartner, Martin Frei and the team. Meeting them a number of times while listening to them talk about their humble beginnings and understanding their unbending vision of watchmaking definitely deepened my passion for URWERK in particular and independent watches in general.
I am a very busy person and after long hard days at work my URWERK are a great respite. It's nice to have something like that in the midst of chaos. They bring back my sanity; they make me happy. Thank you Felix Baumgartner and Martin Frei for giving me a piece of that. I wish URWERK all the best and a lifetime of never-ending drive and creativity.